5 Wonderful Spinach Salad Recipes That You Don't Want to Miss
5 Wonderful Spinach Salad Recipes That You Don't Want to Miss
These spinach salad combinations prove that healthy salads don't have to be bland. Jazz up your diet with these colorful, nutrient-packed combinations and speed up that goal to lose weight.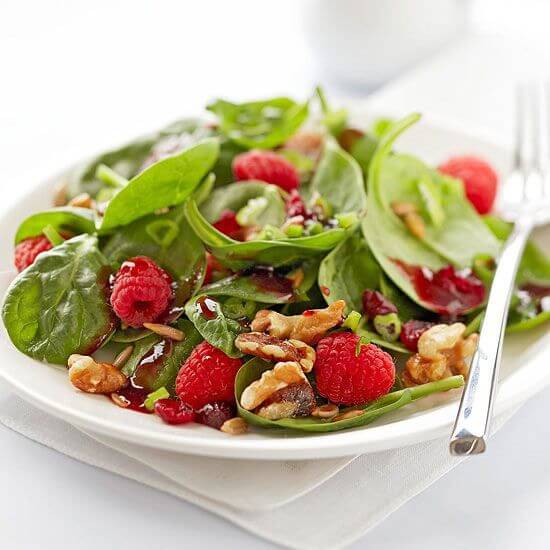 When it comes to weight-loss foods, spinach is a real nutritional powerhouse. It is low in calories but nutrient-dense. It provides you with iron, folate, magnesium, calcium and plenty of antioxidants. Making this low-calorie food a regular part of your meal plan could aid weight loss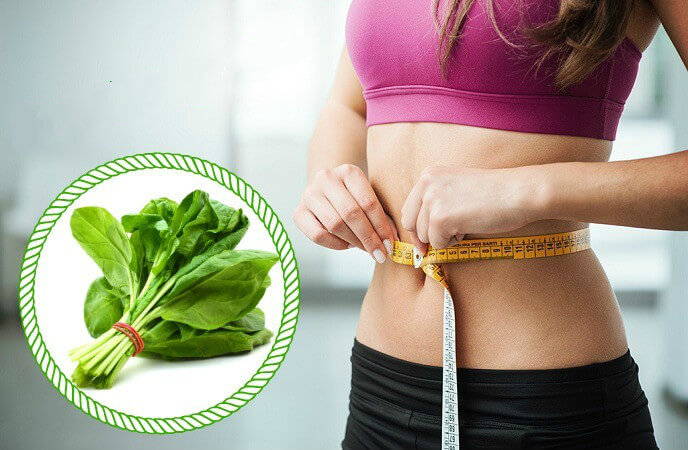 So when you want a salad that's going to help you shed pounds, go for the spinach variety. These 5 nutrient-dense spinach salads support weight-loss goals, fuel the body, and satisfy your taste buds with their fresh flavors and healthy ingredients.
---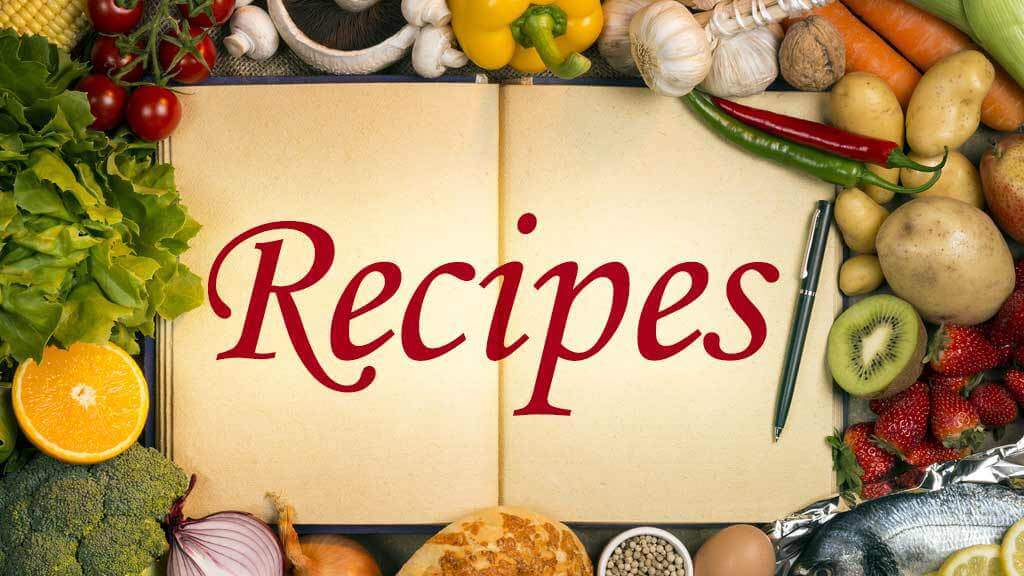 1.Strawberry Spinach Salad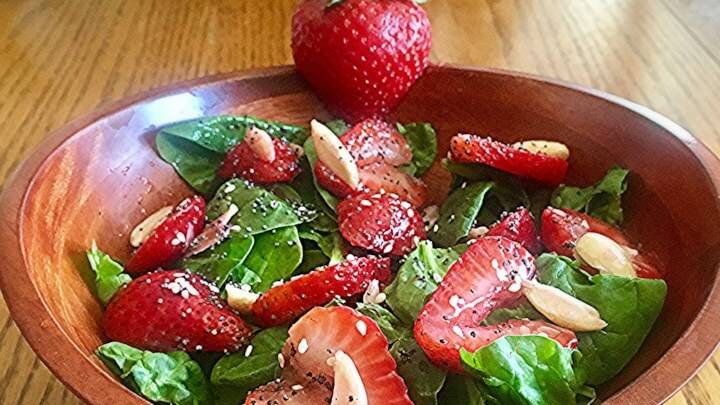 Try this strawberry-spinach salad for an tasty twist on an easy summertime meal.
Ingredients :
2 tablespoons sesame seeds
1 tablespoon poppy seeds
1/2 cup white sugar
1/2 cup olive oil
1/4 cup distilled white vinegar
1/4 teaspoon paprika
1/4 teaspoon Worcestershire sauce
1 tablespoon minced onion
10 ounces fresh spinach - rinsed, dried and torn into bite-size pieces
1 quart strawberries - cleaned, hulled and sliced
1/4 cup almonds, blanched and slivered
Directions :
(a) In a medium bowl, whisk together the sesame seeds, poppy seeds, sugar, olive oil, vinegar, paprika, Worcestershire sauce and onion. Cover, and chill for one hour.
(b) In a large bowl, combine the spinach, strawberries and almonds. Pour dressing over salad, and toss. Refrigerate 10 to 15 minutes before serving.
---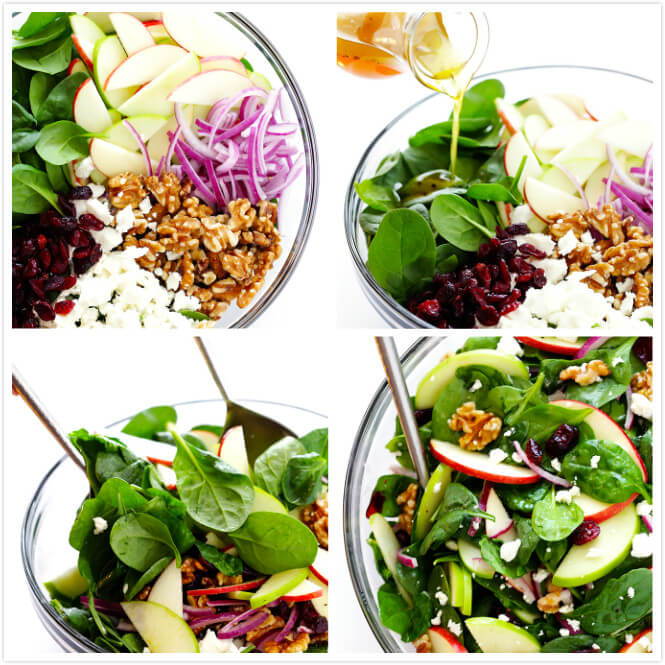 It's always a crowd favorite! Feel free to sub in whatever greens, nuts, or soft cheese that you have on hand.
Ingredients:
10 ounces baby spinach
2 large apples, cored and thinly-sliced (I used 1 gala apple, 1 granny smith apple, but any will do)
half a small red onion, peeled and thinly-sliced
1 cup walnut halves, toasted (or pecans)
2/3 cup dried cranberries
5 ounces goat cheese, crumbled (or feta cheese, or blue cheese)
1 batch apple cider vinaigrette (see below)
Directions:
(a) Add spinach, apples, red onion, walnuts, dried cranberries, and half of the goat cheese to a large bowl. Drizzle with the vinaigrette, and toss to combine.
(b) Serve immediately, garnished with the remaining goat cheese.
---
3. Spinach Salad with Chicken, Avocado And Goat Cheese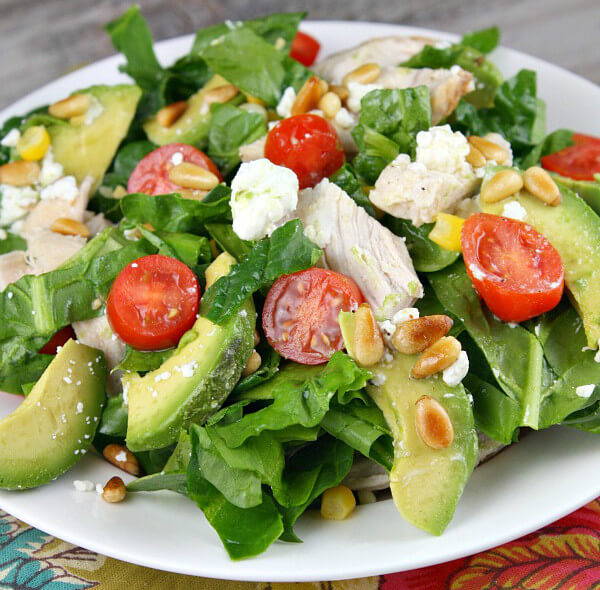 Thisspinach salad with chicken, avocado and goat cheeseis pretty tasty and healthy. You would love it the first time you try the salad.
Ingredients:
1.cups chopped spinach (1 bag)
1.cup halved cherry or pear tomatoes
1/2 cup corn (frozen, canned, or cut off the cob)
1/2 cups chopped cooked chicken
large avocado, sliced
1/3 cup crumbled goat or feta cheese
1/4 cup toasted pine nuts
3 tablespoons white wine vinegar
2 tablespoons extra-virgin olive oil
1 tablespoon Dijon mustard
salt and freshly ground black pepper, to taste
Directions
(a) Place spinach in a large salad bowl. add remaining salad ingredients.
(b) In a small bowl, whisk together the dressing ingredients. Pour over the salad and toss (a little at a time... as much dressing as you desire).
---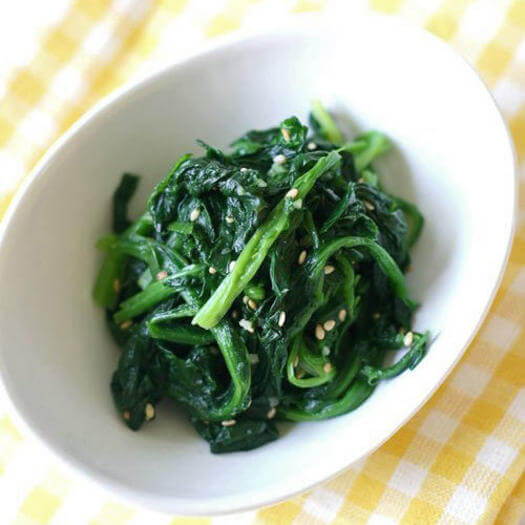 It's very easy and super quick to make. Spinach salad made using this recipe is the healthy way of eating!
Ingredients:
250g baby spinach
1 teaspoon fine sea salt – to add to the water
cups water to boil
1 teaspoon finely chopped spring onion/scallion
1/2 teaspoon minced garlic
1/4 teaspoon fine sea salt (You can adjust the amount of salt per your requirement)
1 teaspoon roasted sesame seeds
1 teaspoon sesame oil
Directions
(a) Trim the spinach roots (if any) and wash the spinach in cold water thoroughly.
(b) Boil the water in a pot/sauce pan for 5 to 7 mins. Add the salt (15 ml). Once the water starts to boil, plunge the spinach into the pot and leave it for 30 seconds.
(c)Drain the boiled water away and run cold water on the spinach for 1-2 minutes.
(d) Squeeze the spinach to remove excess water.
(e) Add the seasoning sauce and mix well with your hands.
---
4.Pineapple Spinach Salad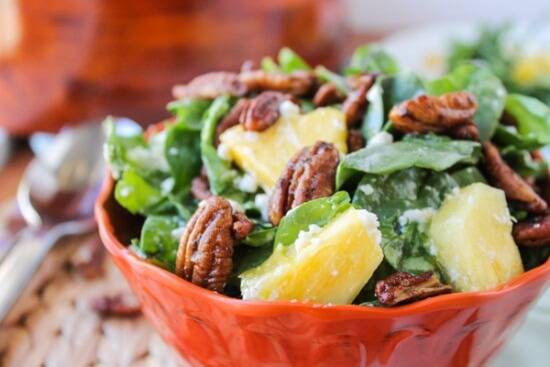 This recipe is a perfect tropical mix for summer! Enjoy it with your friends!
Ingredients:
2 cloves garlic, minced
1/3 cup olive oil
1/3 cup white wine vinegar
1 tablespoon sugar
1/2 teaspoon salt
pepper to taste
1/8 to 1/4 teaspoon dry mustard (optional--taste it first)
2 tablespoons butter
1 cup pecan halves
2 tablespoons brown sugar
10-13 ounces spinach
1 pineapple, chopped into bite-size pieces
6 ounces feta
Directions
(a) Combine all the dressing ingredients in a mason jar or tupperware. Shake vigorously and set aside.
(b) In a small pan, heat the butter over medium-high heat. When hot, add the pecans and stir to coat. Add the brown sugar and stir again. Stir occasionally until the sugar starts to caramelize, about 2-5 minutes. Remove to a wax paper lined cookie sheet and let cool.
(c)In a large bowl add the spinach, pineapple, and feta. Toss to combine. Sprinkle the top with pecans and serve with the salad dressing (you might not use all of it.
Now that you have got five popular types of spinach salad recipe, why not give it a try? You would love these salads not only for their delicious taste, but also for their positive influence on weight loss.
Do you want to know more secrets about losing weight? Then you'd better click here to get yourself fantastic ideas of weight losss.  
---
---
---
---